I recently came across a blog post by Sarah Mei, one of the developers on Diaspora, that got me thinking about how we think-and talk-about gender.
Diaspora is open-source social network that's currently being developed. It's meant to eventually be a competitor with facebook, and it's trying to do this by stressing its privacy and ownership of content, two things that facebook isn't do so hot at.
What Sarah Mei wrote the post about was her decision to make the "gender" field on the social network blank, letting the user fill in any designation they wished. Instead of choosing between, "Male", or "Female", users could write, "dude", or "gender-queer", or "andro", or "lady-like". Here's a cool graphic Sarah made showing some of the genders her contacts on the site chose to identify as.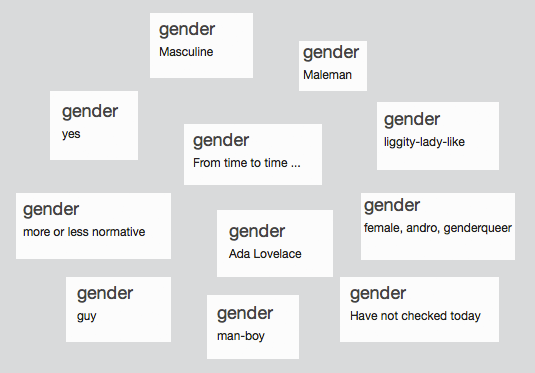 I really applaud this decision by Sarah, and the developers at Diaspora. Though this hasn't really broached the mainstream consciousness yet, many individuals do in fact have gender identities that fall outside of the generally accepted gender binary.
For those not as familiar with computers, binary refers to the binary numeral system, which is represented by two symbols, 0 and 1. In that system, there's no 0.2, or .99, or 1.8 There's two choices, male or female. Nothing in-between or falling outside.
And that's how most people think about gender. Many people never question this outdated notion, and have never heard of the numerous identities that fall outside this binary (or, they hear them, and then choose to dismiss and belittle the people who have them).
These identities might be genderqueer, genderfuck, two-spirit, bigender (all subcategories of the umbrella term, transgender, though many transgender individuals do not challenge the binary, they simply switch sides) or anything else someone chooses to define themselves as.
Which is why a new way to describe gender is needed. Some people use spectrum, continuum, or simply call gender, fluid.
But I think "field" works pretty well too. Think about it for a second-a gender field. Geographically, fields are expansive, multidimensional (think hills), and have room for just about everyone, whether they're in a big cluster, or sitting alone by a babbling brook.
But the term field also works with regards to computers and technology. Fields are inherently empty, ready to be filled by whatever someone wants to type in them. There are no two choices, the possibilities are simply endless.
Sarah Mei, I think you might be onto something.